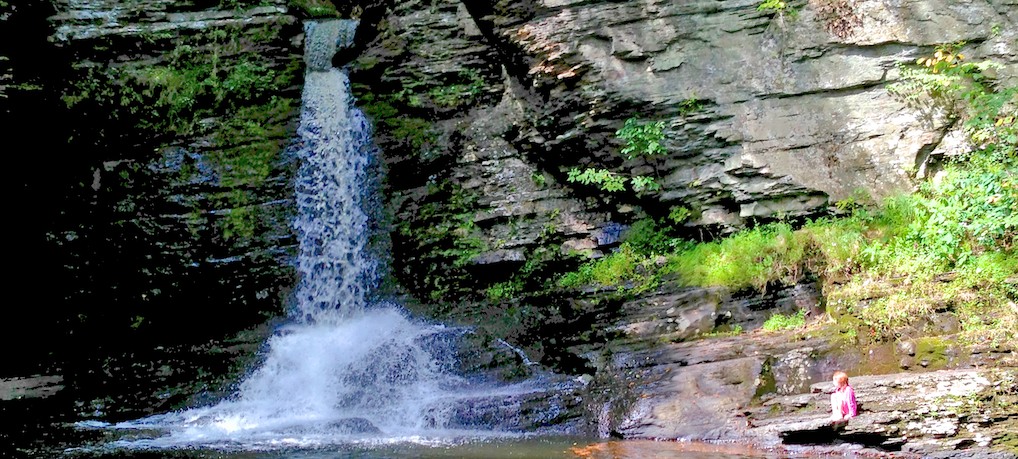 Childs Park is a beautiful park filled with big rocks, towering trees, and its main attraction, thunderous waterfalls. Several trails lead from the parking area and wind through the trees and rocks down to Dingmans Creek.  The rocks are great for climbing, but watch out for the trees—in the early fall, nuts and acorns drop constantly.
Once you reach the creek, you'll see small cascades and pools as you wander along. After a short walk you reach the first waterfall, Factory Falls. Further down the creek is the larger Fulmer Falls, and lastly is Deer Leap Falls. There are overlooks and even a bridge that allow great views of the falls.
The rocks below Dear Leap Falls are pretty easy to get to and are a lot of fun to climb on to get a great up-close view of the falls. Jumping off the cliffs and swimming in the huge pools beneath the falls isn't allowed anymore, but some people still do.
Best Time to Visit
Water flows are highest in the spring and after big storms. Hot summer days are great, as is the fall for the spectacular color.
Location
Childs Park is part of the Delaware Water Gap National Recreation Area and is less the 75 miles from Manhattan. Located in Dingmans Ferry, PA, access to the park is just off Silver Lake Rd.
For More Information